Turner Symposium Celebrates Dr. Presha Rajbhandari's Systems Biology Approach to Mapping the Liver
By
Lena Kogan
Elisabeth Bradford
October 26, 2023
Last month, the Biological Sciences department hosted the Charles H. Turner Symposium to celebrate outstanding work in biology performed in our department by postdoctoral scientists. Students, staff, and faculty quietly focused their attention on the front of the Fairchild 601 classroom, where the lights were dimmed, the shades were drawn, and the front half of the room was illuminated by a projector. We had sat in this classroom many times before: for classes, weekly biology seminars, even recruitment events. This same projector had been used to display everything from syllabi to dazzling images of cells to "thank you" slides, with photos of smiling lab members in picturesque locations. Today, the projector showed three images. In the middle was a black and white photograph of an elegantly-dressed, middle-aged Charles H. Turner. On either side of the portrait were the first pages of manuscripts. To Turner's left, the title of the Science paper read "Charles H. Turner, pioneer in animal cognition" followed by a subtitle: "An African-American scientist's early discoveries are forgotten for all the wrong reasons." To his right, a paper from the Annual Review of Entomology read "A Study in Inspiration: Charles Henry Turner (1867-1923) and the Investigation of Insect Behavior." Students, postdoctoral researchers and faculty from across departments had gathered to celebrate the scientific achievements of a young Columbia researcher receiving an award named after a brilliant Black scientist not recognized during his own time. 
Established in 2022, this year the Charles H. Turner prize was awarded to Dr. Presha Rajbhandari, a postdoctoral researcher in the Stockwell Lab who studies liver metabolomics and lipidomics using a systems biology lens. Rajbhandari got into the field of systems biology as a PhD student in Columbia's Biological Sciences program. "I like the perspective," said Rajbhandari. "When we look at a system, we have to look at it from different scales and perspectives, to understand it fully. It's like looking at a map, having a broader view first, which helps us understand the whole system, then zooming into the single cell and molecular level, to try to understand the network that characterizes it at each level. It's fascinating how everything works together."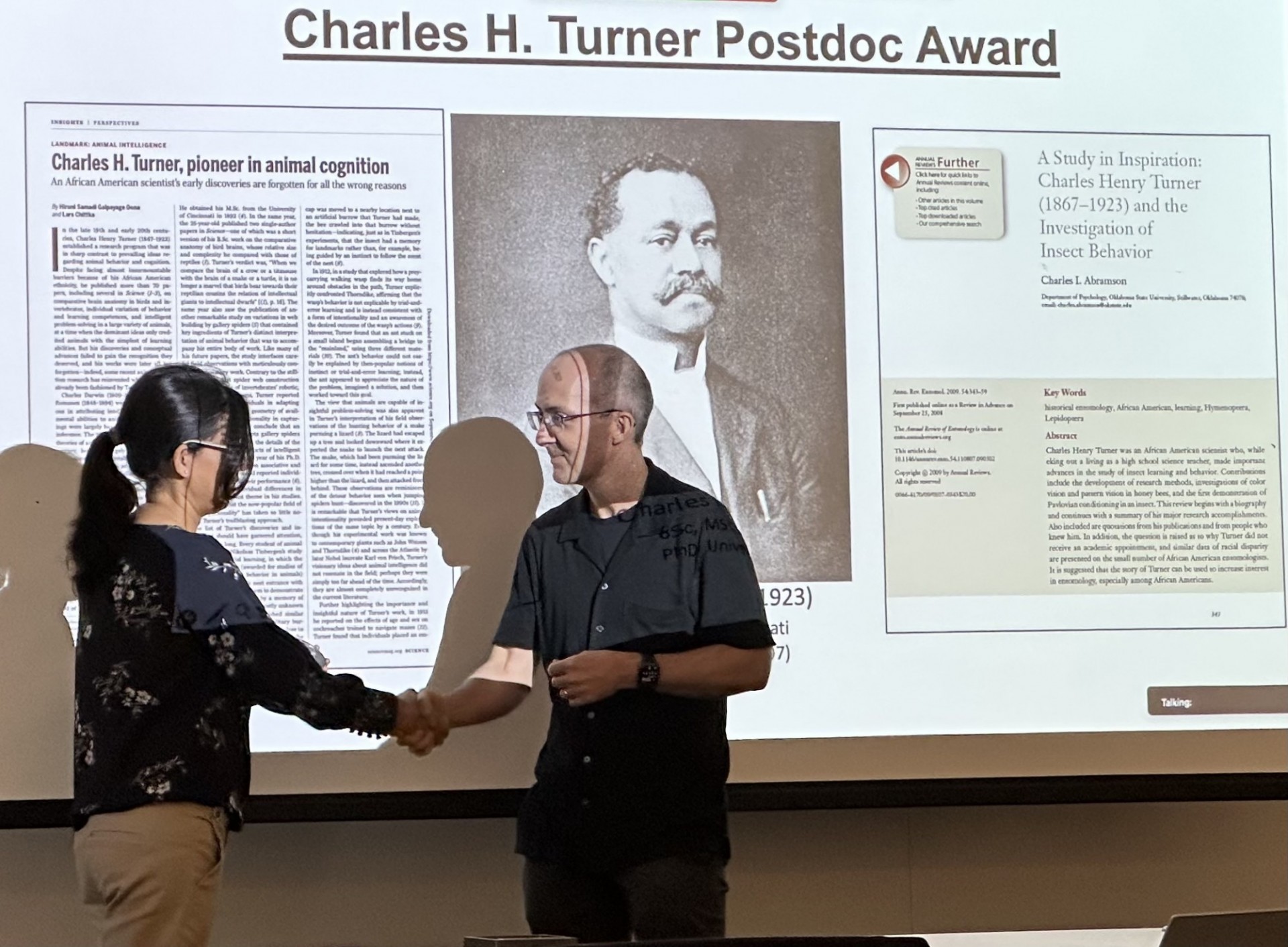 Dr. Oliver Hobert opened the symposium by presenting on the scientific and social impacts of the work of Dr. Charles H. Turner, the scientist after whom the award is named. Charles H. Turner was the first Black scientist to receive a Master's degree before earning his PhD from the University of Chicago in 1907. In spite of his seminal contributions to the field of animal behavior, Turner was never offered a faculty position due to racism in early 20th century academia. He moved to St. Louis, Missouri and worked as a teacher at a secondary school for Black students until his death in 1922 at the age of 56. Even though he lacked access to laboratory spaces, academic libraries, and research assistants, Turner performed groundbreaking work in ants and bees, including the discovery of color vision and pattern recognition in honeybees. In addition to his teaching responsibilities and summers spent conducting research, Turner was an organizer for social services for Black residents in St. Louis and a leader in the Civil Rights Movement. 
After Dr. Hobert's introduction, Dr. Brent Stockwell introduced the awardee and Presha presented her recent research. Her work, currently available as a pre-print on bioRxiv, solved the long-standing problems of applying multi-modal mass spectrometry imaging (MSI) at single-cell resolution to map the metabolic landscape of the liver. MSI imaging is a method used in the systems biology field for spatial metabolomics. However, in addition to the difficulty of accessing the technology, its applications have been limited by the challenge of processing the high dimensional data sets yielded by the technique. Rajbhandari pioneered a groundbreaking MSI technique for the Stockwell Lab by developing a multi-modal imaging pipeline to analyze the metabolic composition of the liver.
The liver is a complex organ. Rather than focusing on liver disease, Rajbhandari's work takes a step back to look at the normal, healthy liver. Previously, liver metabolomics had been studied mostly by mass spectrometry based bulk metabolomics and immunohistochemistry, which uses antibodies targeted against certain antigens to determine cell types. The new MSI technique will allow Rajbhandari to look deeper within the spatial context. MSI is an unlabeled approach to mapping tissue architecture, providing researchers with a granularity and spatial information not otherwise available. Rajbhandari has already used MSI to profile and analyze the gradients of liver tissue at the effector level of lipids and metabolites. The Stockwell lab is also using MSI to profile all the cell types in the liver to offer a comprehensive view of liver architecture and to identify its different cell populations.
This work is poised to offer the most detailed map of the liver to date, presenting new knowledge of the mechanisms that underlie tissue architecture. "The most exciting thing is if we have a very good healthy tissue reference map then that would help us decode and understand diseases better," said Rajbhandari. "So that is what we are hoping to do: have a robust data set that the research community can use to understand health and disease." 
This project is a part of the NIH-funded Human BioMolecular Atlas Program (HubMAP), which is a consortium of researchers working together to create a spatial atlas of the healthy human body across scales, and Rajbhandari's findings contribute to HubMAP's efforts to build a framework that will help us understand relationships between cells and their effects on our health. 
We sat down with Presha after the symposium to discuss her work and the award. "Thinking about Charles Turner himself, you feel privileged in a way, to have the support to pursue our passions in science" said Rajbhandari. When asked about the people that played a role in her research career, Presha said, "It has been all the mentorship I got, throughout different phases. Brent [Stockwell], specifically, has been a great mentor, providing guidance and also giving the freedom and independence, which has been valuable for both my growth as a scientist and moving science forward. Also, this project is a team effort and having supportive colleagues has helped."